3 min read
The Power of Big Data to Transform the Healthcare Industry

Monmouth Team : Apr 7, 2022 10:43:21 AM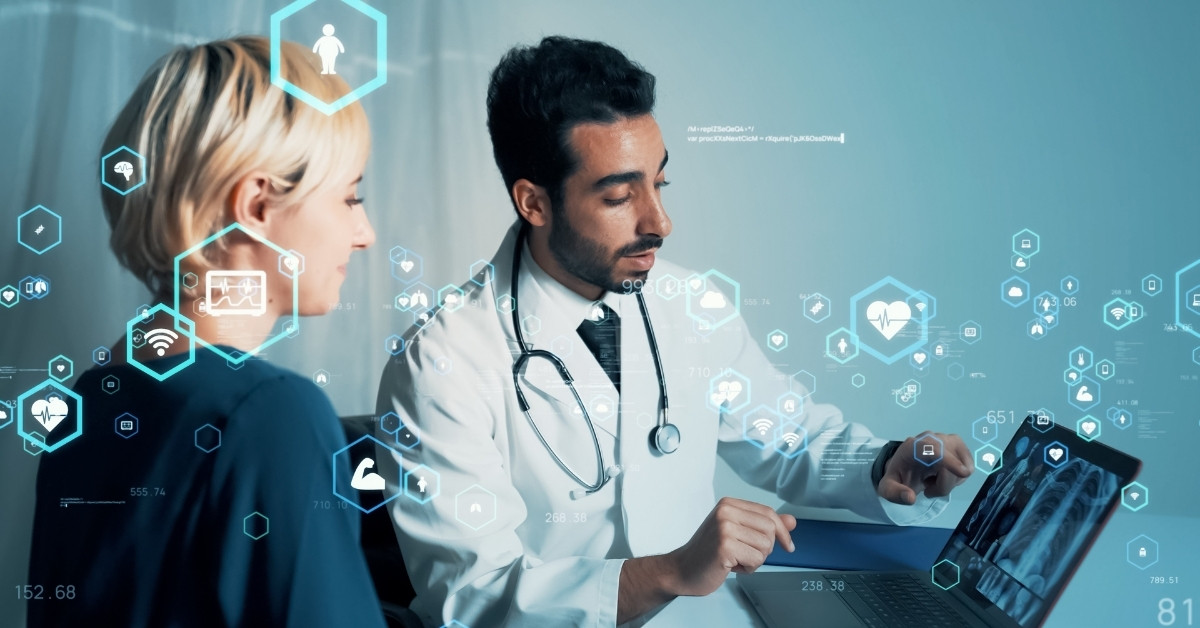 One of the greatest opportunities in healthcare is the potential to harness the power of technology and big data. Data has always been central to healthcare, and nowhere more prominently was this highlighted than during COVID19.
The fast-flowing current of information during the pandemic allowed us to visualise its spread and impact on the world's population and develop and build a response that eventually meant we could catch up. We were able to assess the impact of new strains and new treatments, track trends in the quality of care, identify the needs of the most vulnerable, and facilitate critical supply chains to assist in prevention efforts. As the world emerges from the pandemic, data's role in healthcare will only become more significant. Here are four key ways data will transform healthcare.
Predictive analytics – real-time care pathways


The identification of patterns through analysis of data streams has the potential to revolutionise the delivery of healthcare by streamlining every single process. At an individual level, predictive analytics can enhance patient care by using data to anticipate when and how care should be provided. It enables providers to identify patients at risk of chronic conditions, develop evidence-based best practices, proactively spot the development of serious conditions and identify potential obstacles to care plan adherence.





But on a larger scale, predictive models give practitioners the greatest possible power - the ability to balance personnel and patient needs, enabling them to facilitate the best possible patient outcomes. Institutions are able to develop daily, even hourly, predictions of a day's work, giving them the ability to manage service delivery at a consistently optimal standard.




Patient similarity – targeted therapies


Analytical tools such as patient similarity can reform patient treatment by facilitating precision medicine and turning the healthcare industry into a personalised system. Rather than adhering to evidence-based clinical guidelines, which match the patient under evaluation to a defined subgroup, practitioners are able to draw on the experiences of similar cases, based on the clustering of clinically meaningful subgroups. This allows them to create a treatment response more accurately attuned to the patient's genetic blueprint, lifestyle and environment.





This improves clinical decision making because it enables practitioners to interpret and convert complex patient data into an actionable, case-by-case diagnosis, in turn improving the prediction of patients' prognosis or trajectory over time.





More effective science – ground-breaking research


Though traditional evaluation models do help us to understand what works, the feedback loop can often be too slow or restrictive, requiring the process of care to remain unchanged until the study has been completed. Similarly, implementing new approaches to the delivery of services can take considerable time and effort.





Big data can streamline the process of innovation by enabling healthcare providers to monitor the effects in real time. This means they can 'course correct' along the way, giving the best chance of improving patient care and allowing the discovery of new medical insights from comparing and analysing real-time activity.





Nowhere is the benefit of data-sharing more evident than in pharmaceuticals. Data sharing arrangements between pharmaceutical giants can lead to lifesaving discoveries, added to our growing understanding of the body, and incited breakthroughs in medical research that have changed the world at large.



Data sharing arrangements enabled researchers at the

University of Bath

to develop a revolutionary new biochip that could lead to a faster, more cost-effective way of discovering life-saving drugs. The new technology screens compounds for use in drugs and has the potential to change the drug discovery process by allowing pharmaceutical companies to simultaneously measure and select which compounds can be developed treatments to fight against diseases.


Customised care – keeping patients out of hospital


While practitioners are increasingly turning to predictive models to understand how best to treat a patient, the potential of big data to deliver truly customised care remains untapped. If utilised correctly, datasets can not only bolster clinical decision making but also play a forward-facing role in the delivery of precision medicine.





Predictive analytics enables medical professionals to visualise the trajectory of a patient's health throughout the course of their life and map out a course of treatment that marries up with the data, creating a truly holistic and bespoke care plan. This is enhanced by the uptake of wearable technology and health tracking devices, which provide valuable patient data that gives providers a more robust picture of a patient's health and has the ability to improve patient engagement because providers are no longer reliant upon recall or time-sensitive practices.



In a recent study, researchers were able to transform the delivery of care for patients suffering from cystic fibrosis by using Bluetooth home monitoring devices and predictive analytics to predict flare ups up to 10 days before they became clinically apparent, supporting patient empowerment, self-management and delivering a customised care solution. The project also showed that predictive analytics had the potential to reduce the volume of routine outpatient appointments by 50%, saving the NHS a significant amount of time and money.
Final Thoughts
When the NHS was facing one of the greatest challenges of its time, data made all the difference. It was one of the most impactful tools at our disposal and drove an unprecedented digital transformation through the healthcare industry, demonstrating the power of big data to save lives.
But the pandemic was just the tip of the iceberg. Through data, we can deliver better treatment, results, decision making, research and front-line support. It is the responsibility of the industry to maintain the momentum onset by the pandemic and harness and explore the potential of data and analytics, while maintaining the highest possible standards in privacy, accountability and ethics.